"Christ instituted the sacrament of Penance for all sinful members of his Church: above all for those who, since Baptism, have fallen into grave sin, and have thus lost their baptismal grace and wounded ecclesial communion. It is to them that the Sacrament of Penance offers a new possibility to convert and to recover the grace of justification. The Fathers of the Church present this sacrament as "the second plank [of salvation] after the shipwreck which is the loss of grace." (CCC 1446)
Reconciliation/Confession Schedule:
Wednesdays 6:30 P.M.-7:30 P.M. & by appointment
Please do not hesitate to contact Fr. Dandeneau for an appointment if Wednesday from 6:30 P.M-7:30 P.M. is inconvenient for your schedule.
The Sacrament of Reconciliation/Confession is an extremely important practice in our faith.  The Lord Jesus Christ established it as the ordinary means by which sin would be forgiven and those guilty of sin reconciled to God.  Although it can be intimidating, please remember that God wants to forgive our sins and reconcile us with Himself more than we want to be forgiven or reconciled.  The Lord also bestows additional blessings and graces upon us in this great sacrament in order to help us to turn away from our sin and sinfulness and live lives more pleasing to Him.
Reconciliation is only required for those who have lost the state of sanctifying grace.  In other words, it is only required of individuals who have committed a mortal sin since baptism or since the last time they received the Sacrament of Reconciliation/Confession.
Although many in our generation and culture would question and dispute the Catholic Church's true teaching about the nature of a Mortal Sin, the general guidelines are as follows:
The action or failure to act must by its nature be grave/serious
The individual perpetrating the sin must have complete consent
The individual perpetrating the sin must have "sufficient reflection"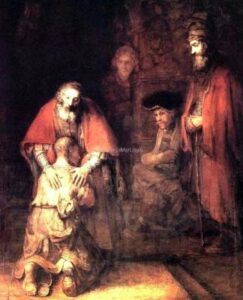 This Sacrament gives Christ's faithful the further possibility of conversion.  All of us know that we are not perfect and depend on God for the grace necessary to change our lives. Through Confession, we announce our sins to the priest who sits "in persona Christi" (in the person of Christ) and exercises the command of Christ to His Apostles, "Whose sins you forgive are forgiven them, and whose sins you retain are retained." (Jn 20:23)